Quintessence Breastfeeding challenge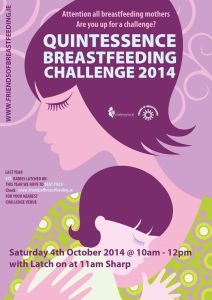 Last week I was asked to write an article about the Quintessence breastfeeding challenge for the Cork Evening Echo.  I duly met Mairead Coughlan and Kathryn Foskin, two mums who are involved in organising the Cork Quintessence Friends of Breastfeeding Challenge taking place next Saturday Oct 4th during National Breastfeeding Week.
Given that most mothers of newborn babies are typically advised that 'Breast is Best', why are only 56% of Irish mothers currently breastfeeding, according to ESRI statistics of 2012, compared to 81% in the UK and 90% across Europe?
"The first 6 to 8 weeks are the hardest," said Kathryn, "You can experience difficulties but it gets easier as both baby and mum get better at it.   The rewards are absolutely worth it.  Continue reading →